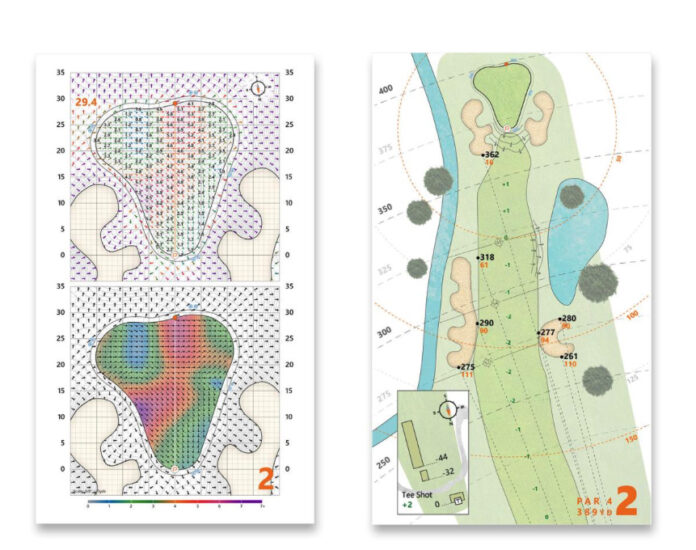 PuttView, maker of golf's most detailed yardage and greens guides, has quickly emerged as a must-have resource for high-level amateurs, Division I collegiate teams and professional golfers in the crucible of tournament play.
Working with renowned putting instructor Phil Kenyon, PuttView has taken green maps and yardage book technology to the next level and competitive golfers are flocking to the forward-thinking company's latest offering.
PuttView offers two views of each green, including an easy-to-read thermal image that uses color to allow players to quickly see ridges in greens and possible hole locations.
The detailed view supports green reading with arrows and contours shown at the maximum level allowed within the rules of golf, helping players quickly process vital information.
The yardage information features fairway arrows when slope exceeds 4 percent, carry and run-out distances, elevation change and distance rings, among other valuable information.
All of PuttViews guides are compliant with the rules of golf.
"I've been involved with PuttView over the last four years, and I've really come to trust their expertise and know-how," said Kenyon, who works with several top 20 players. "When they approached me to get involved with the project, I had absolutely no reservations. Alongside their cutting edge technology and using my experience as a Tour coach, I believe we have put together the most detailed yardage and greens maps available on the market."
PuttView's popularity with golfers is growing exponentially as more players are able to use it and word of its quality circulates among the game's best players.
"Our team worked tirelessly to create a comprehensive course guide that would set a new industry standard, and we did it," said Christoph Pregizer, PuttView's founder and managing director. "The early success we've seen at the amateur, collegiate and professional levels has been gratifying, but this is just the beginning."
PuttView offers green maps for more than 12,000 courses – a number that is growing daily – and yardage books for 30,000+ layouts across the globe (Search For Your Favorite Course).
For more information, visit www.PuttViewBooks.com.