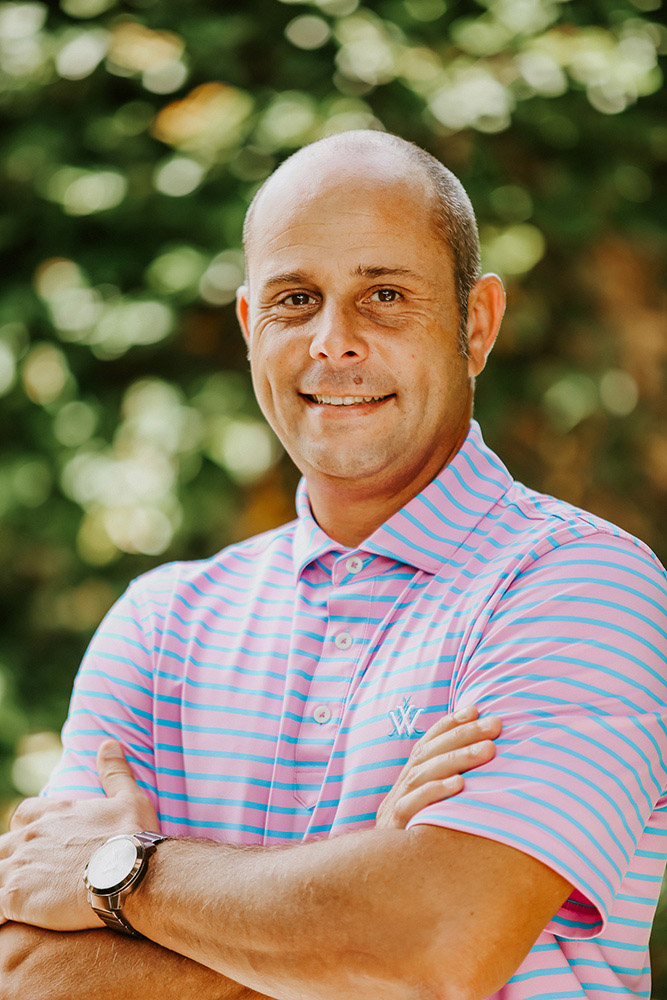 STUART, Fla. – When Gerry Knebels was hired as Willoughby Golf Club's first head professional in 1988, he planned to spend five years at the South Florida property before heading to the Midwest, where he had established professional roots, in search of a position at a private club.
Thirty-five years later, the beloved Knebels finally left Willoughby, retiring in the summer of 2023 after a run at the club that saw him grow into an institution along the Stuart, Fla. golf scene. Knebels played a vital role in Willoughby's emergence as one of the area's most popular clubs, and his impact will be felt long into the future via his successor Skip Deaner.
While Knebels will take a lot of institutional knowledge into retirement, Deaner, who had been the first assistant at Willoughby the last six years, is more than prepared to assume the lead role, helping ensure the club's continued success.
"He knows the whole membership," Knebels says of Deaner. "Now he can put his signature (on the club). He is more than qualified and understands how everything works. It's an easy passing of the baton."
Deaner, who grew up in Dublin, Ohio and once worked as a first assistant at Muirfield Village, has been immersed in the game since he was a kid. After a stellar junior career, he played at and graduated from Stetson University; while his dreams of life on the PGA Tour ended, his desire to work in the golf business never wavered.
"At a certain point you realize (playing on the PGA Tour) is unrealistic and you have to make a decision," Deaner said. "I wanted to stay in and around golf no matter what, and I always knew I wanted to be a head golf professional."
The avid sports fan and outdoorsman paid his dues, starting his career at Loxahatchee Golf Club working in the bag room, but his ascent was as steady as it was undeniable. Sandwiched around his tenure at Muirfield, Deaner also worked as an assistant at Old Palm Golf Club and the Legacy Club, where he first met Knebels, setting the stage for his eventual ascension to the head job at Willoughby.
"It means a ton to be the head pro here and to follow someone like Gerry is amazing, especially given what he has done here at Willoughby and in the community," Deaner said. "Gerry was instrumental in getting the First Tee off the ground in Martin County. You can't go anywhere in Stuart without someone knowing Gerry; pretty much anyone who knows anything about golf knows him."
Knebels will continue to be a familiar face at Willoughby as he was named Emeritus Golf Professional upon retirement. While Knebels will enjoy his newfound status, his thoughts remain with what's best for the club, meaning he is sensitive to casting a shadow over his successor.
"If you are going to retire, retire," Knebels said. "I don't want to stay in the corner and look over everyone's shoulder."
That selflessness is what made Knebels so popular over the years and it is also a trait that runs throughout the club, which explains the continuity of the staff. Knebels, the club's chef, the superintendent, the starter, they have all worked at Willoughby for 15+ years, a testament to a culture that is built around a sterling 18-hole Arthur Hills golf course and a commitment to treating everyone the right way.
"You hear stories in the golf business about a particular club that gets a different pro every three years, a different chef every three years," Knebels said. "When people come here, they don't leave, and that level of support and appreciation the membership gives you is kind of the glue that holds it together."
For 35 years, Knebels was a vital ingredient in the glue that held Willoughby together. From the club's earliest days to hosting a charity event spearheaded by PGA Tour player (and member) Ed Humenik that attracted John Daly and raised the course's profile, Knebels was the one constant at Willoughby.
Knebels grew up on a golf course in Philadelphia, looking for balls and selling Kool-Aid as a young kid before eventually taking his first job in the caddie room, beginning a career dedicated to golf.
Going forward, the game will continue to be a vital part of his life but now he will enjoy if from the perspective of a member at Willoughby Golf Club.
Stuart, Fla., was named the "Happiest Seaside Town," by Coastal Living, and it's easy to have a smile on your face with the ability to join a club like Willoughby. The member-owned Arthur Hills course is the private community's centerpiece amenity, but it's just one of many attractions. The clubhouse is the focal point for membership, allowing easy access to the pool, a fitness center, tennis and pickleball courts, and multiple onsite restaurants that help make Willoughby one of the region's premier private communities.
For more information, visit www.WilloughbyGolfClub.com.